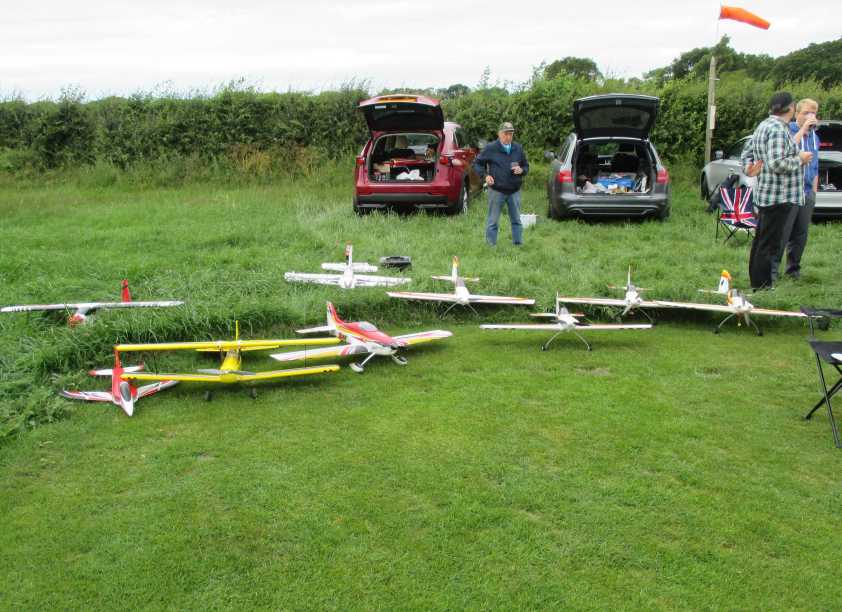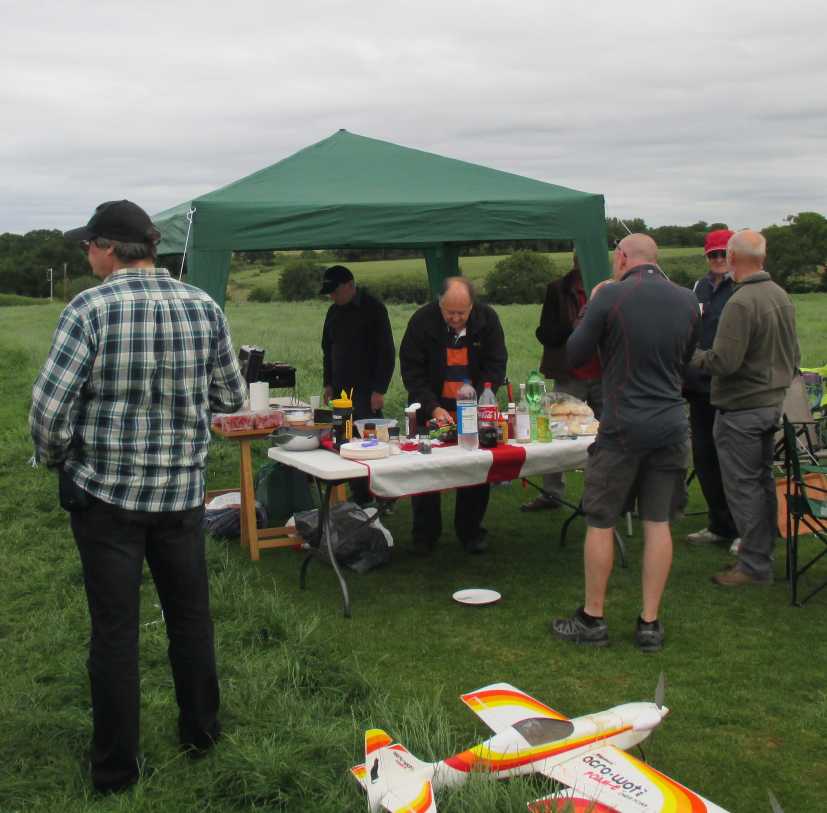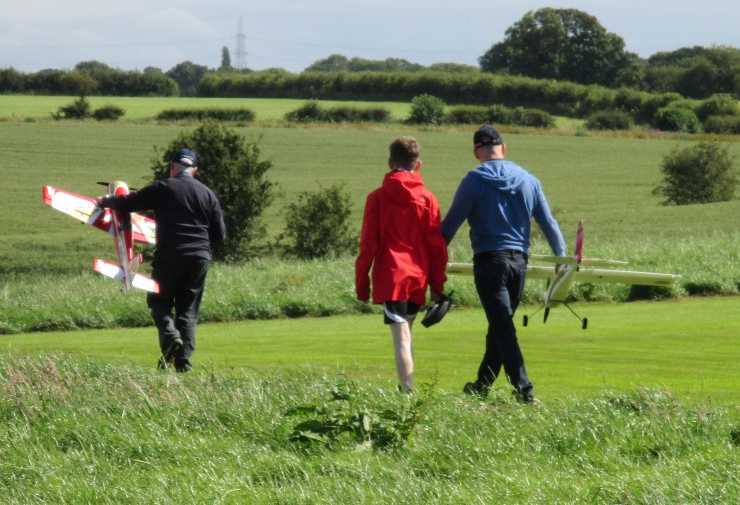 Acrowot corner Food and ( soft) drinks for all The Q for takeoff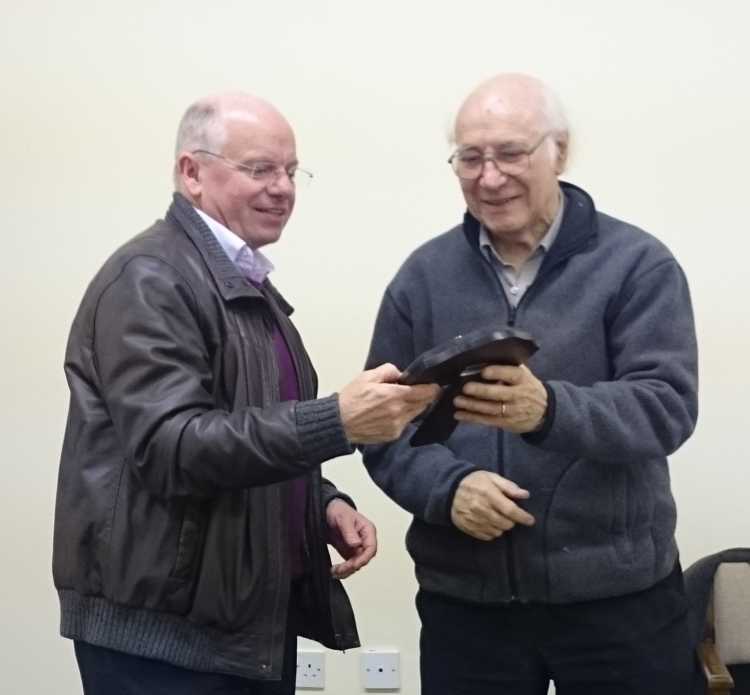 In March 2016 John Lee was again the worthy recipient of the
Ray Slack Memorial Shield for contribution to Club affairs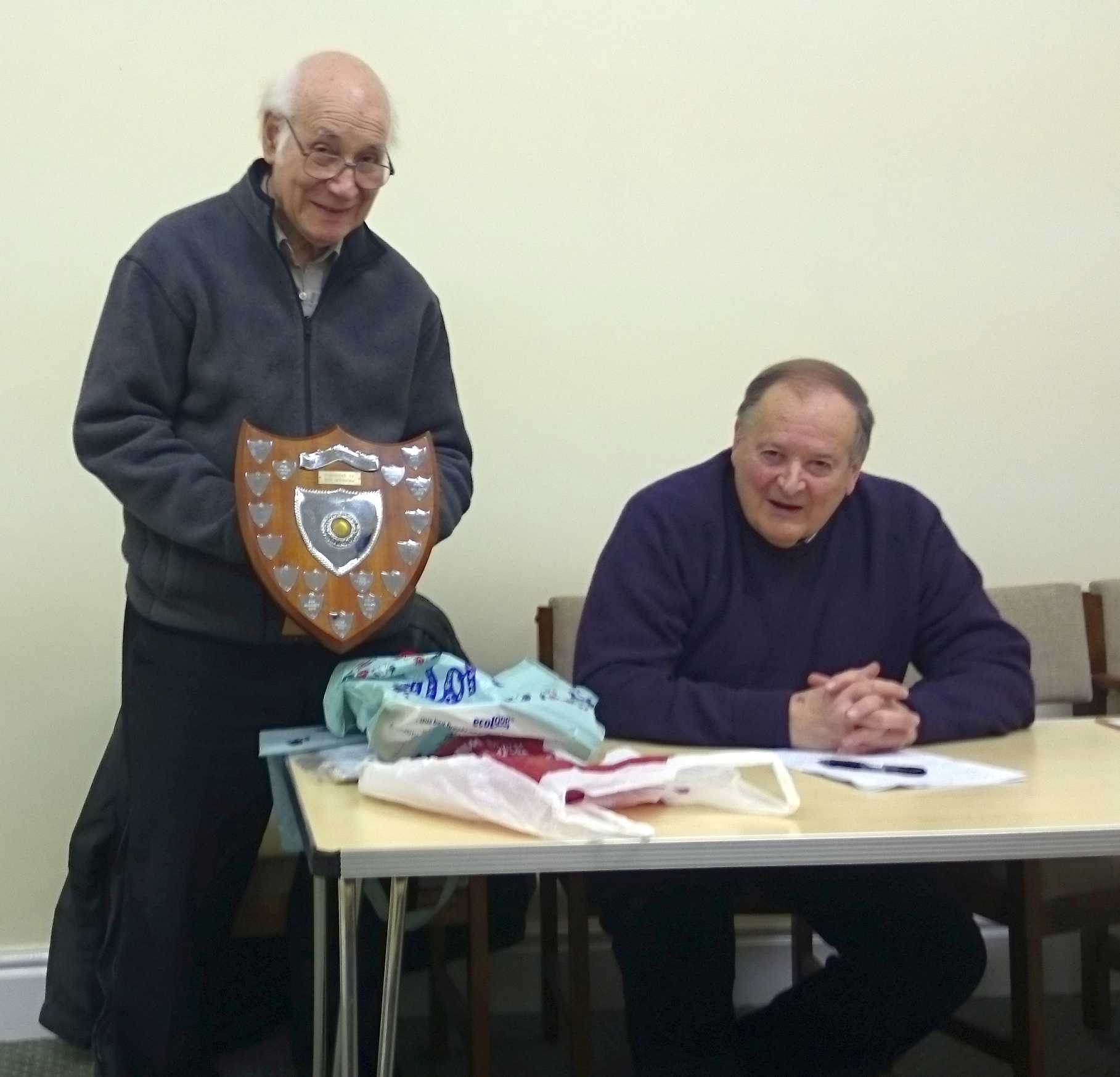 An appreciation for the work done by our Hon Sec, Dennis Kewley and
Chairman Len Ward, both of whom retired from office at this AGM.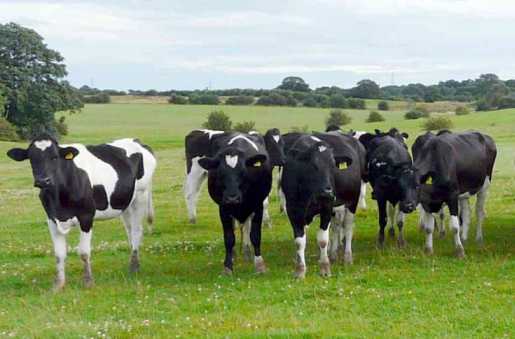 Much of our Summer flying is supervised
by the 'udder' residents.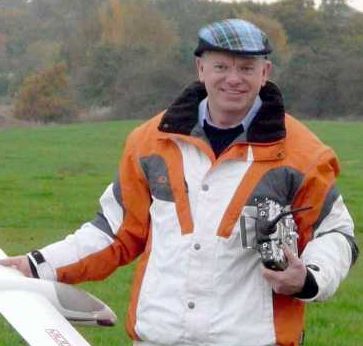 Members were delghted to award John Lee the Ray Slack Memorial Shield for Contribution to Club Affairs.
John is not only one of our instructors but as a BMFA Examiner has enabled several members to take ( and pass)
their part A Certification at a familiar strip.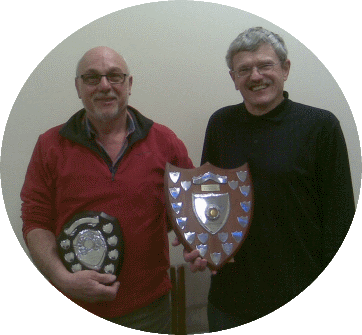 Spring 2013 sees Dave ( left) receiving the Ray Slack Memorial Shield for Contribution to Club Affairs
and Phil X (right) was the proud recipient of the shield recognising him as this year's most improved modeller .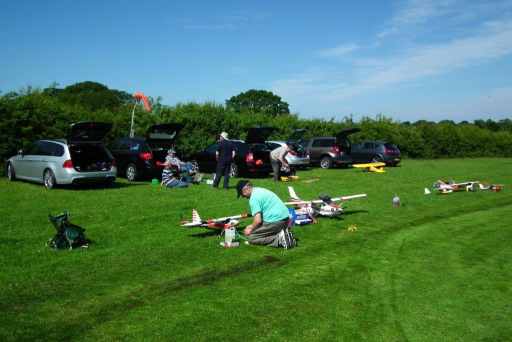 Midweek meet. June 2013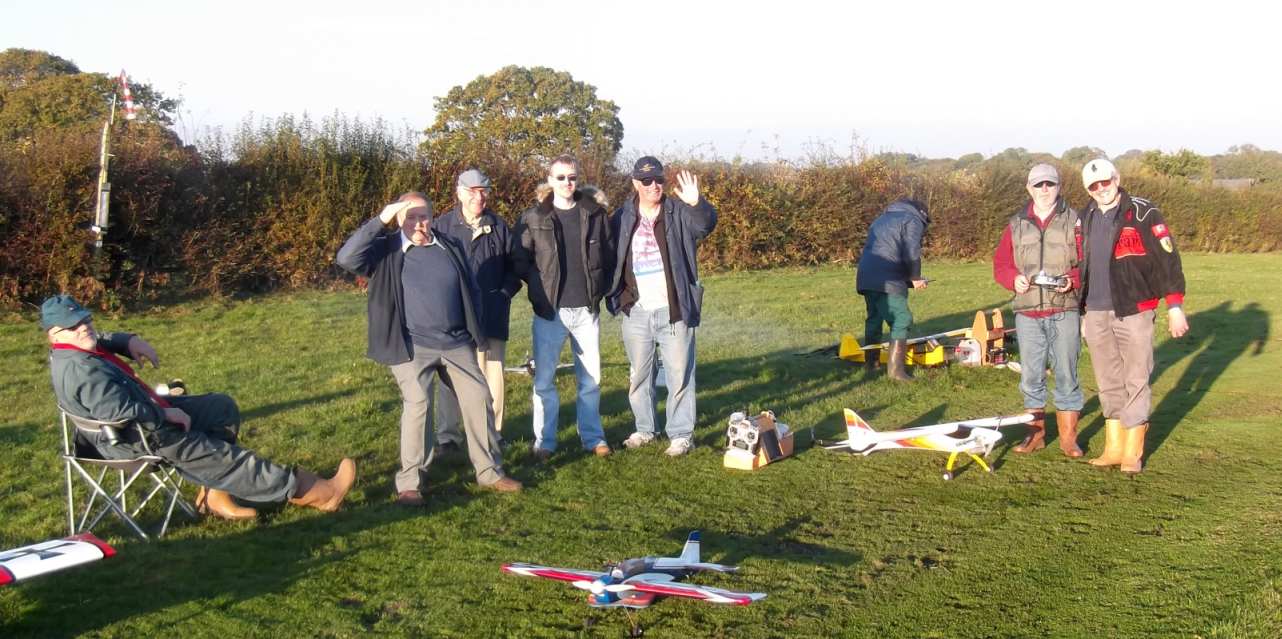 A group of posers on a bright October Sunday. 2012.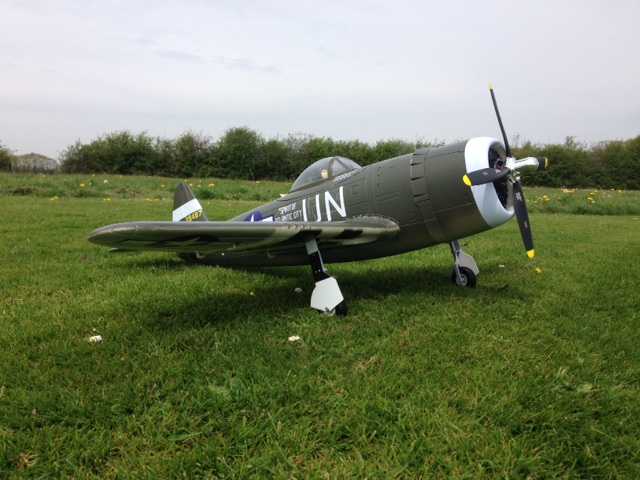 Tony showed us his most recent warbird, a foamie P47,
how about this for a trial flight?.








The Saga of Darth Vader...Pilot Extrordinaire!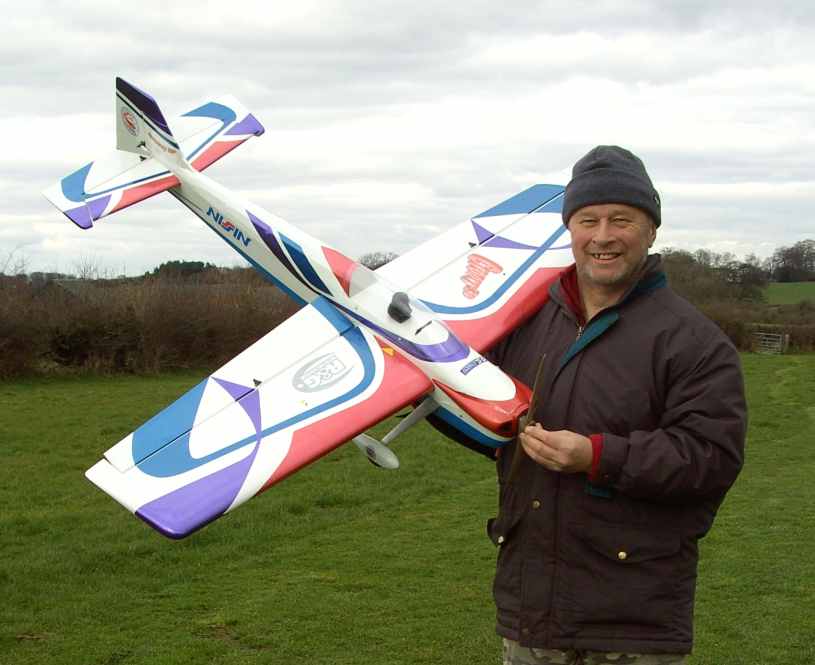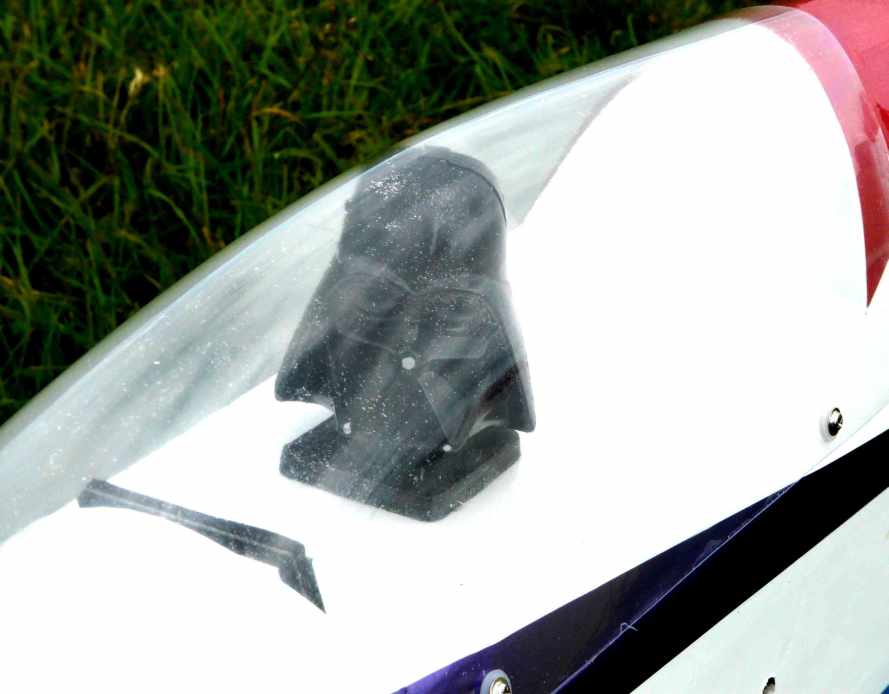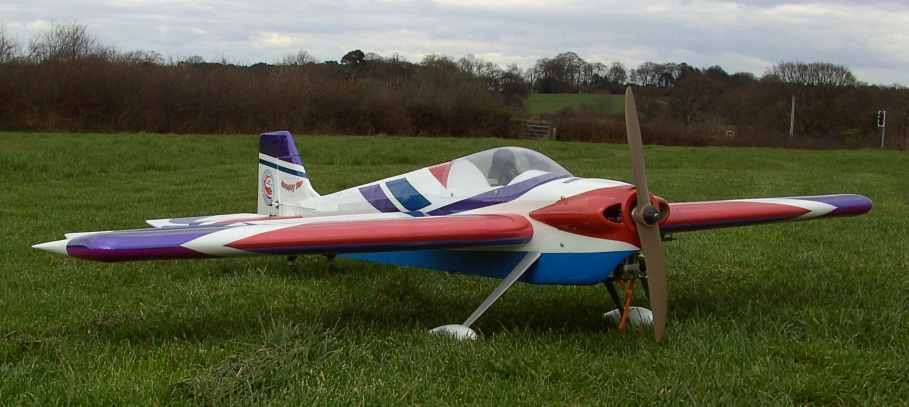 The Maiden flight in March of Phil's new World Models Groovy 3D. The new OS 4stroke is partly run in, range checks and control rates all confirmed. Ken assists as Phil gives it a last burst of throttle and Darth Vader grips the controls as she starts her run!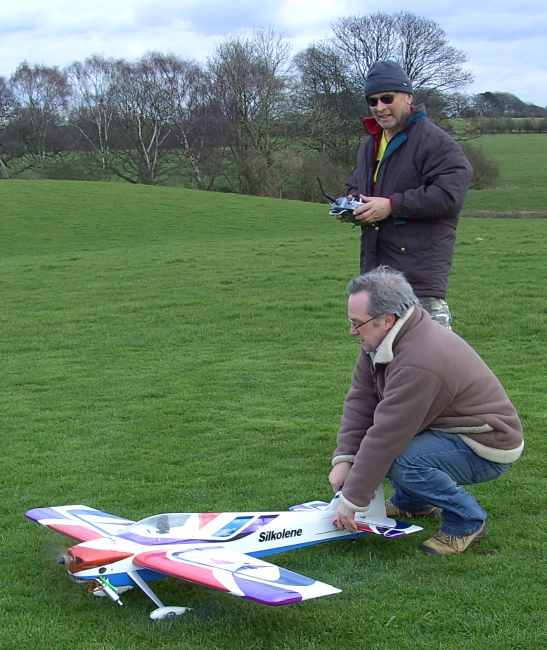 Helped by quite a lot of elevator the model almost reluctantly clambers into the air but on rotation just clips the longer grass.

As you can see below the 3D elevators have a 'counterbalance' tip, forward of the elevator hinges.
On takeoff the drooping LE of the Port elevator had hooked some long grass which had ripped the whole elevator from its moorings.
Once in the air the extent of the damage was hidden by the fin, so Phil, thinking he had
simply lost a tail wheel, assumed that this model just needed more trimming than most!!

Our Pilot somehow managed to complete a crazy sort of circuit, made a surprisingly gentle 'flared' landing using the
half elevator remaining and his model lived to fly another day!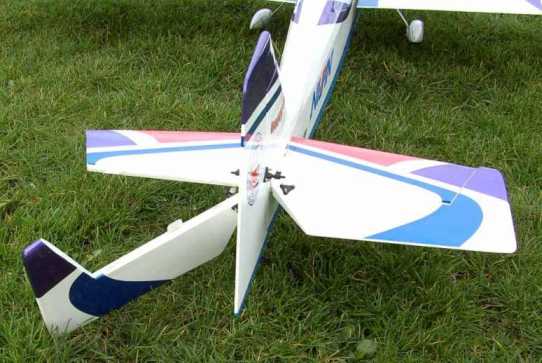 Phew!.......Well done Darth
And the lesson learned?
With this model use minimum elevator for takeoff and stick to the mown strip!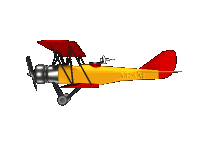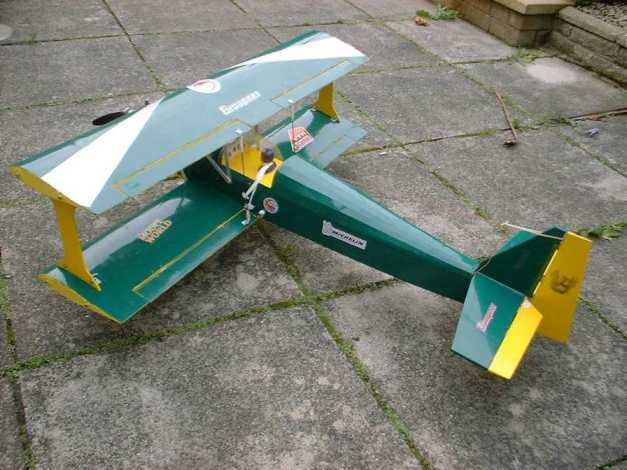 This looks like a regular ARTF bipe, straight off Webbie's shelves, but no......
Joe wrote off all but the tail feathers of his Ultimate 40 ( he says it was'nt his fault...! ) On a whim, from those few bits Joe designed and built the handsome 40" span bipe you see above, driven by an RMX 40.
He calls it 'The Phoenix' cos it rose from the ashes of an Ultimate and it flies well.

'Phoenix Too' was Joe's next project, and a handsome 81" span monoplane it turned out to be.
The grunt is from a converted 26cc Homelite strimmer engine
and if she flies as well as she looks, we think Joe may be onto a winner.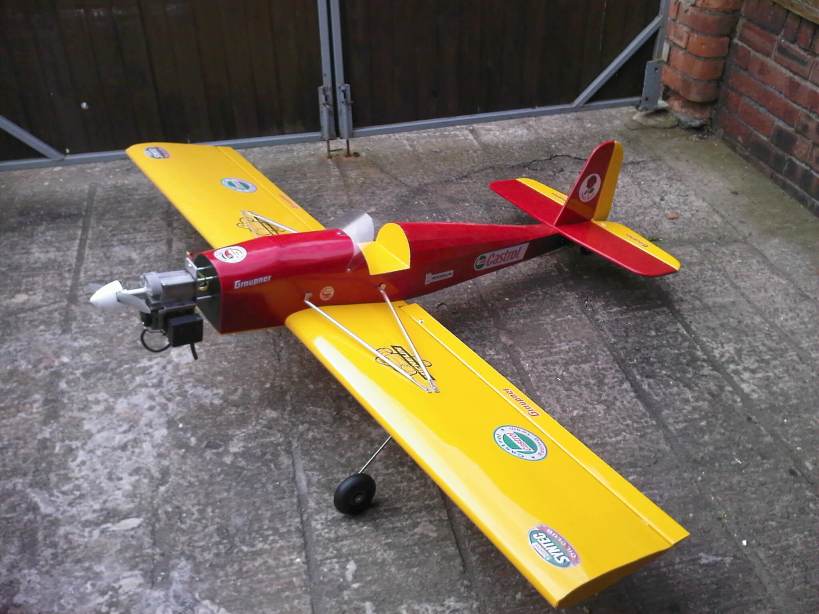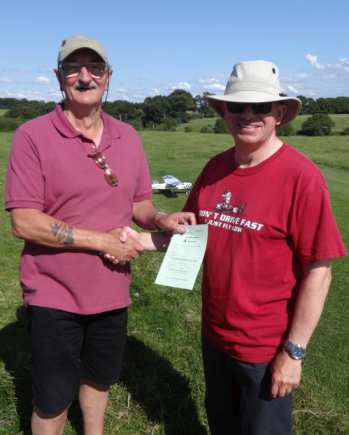 A sunny but breezy Sunday in July ( 2014) and John held
an 'Improve your flying skills' masterclass, offering an opportunity for members to take their A certificate .
Joe jumped at that challenge and here receives his certificate and many congratulations.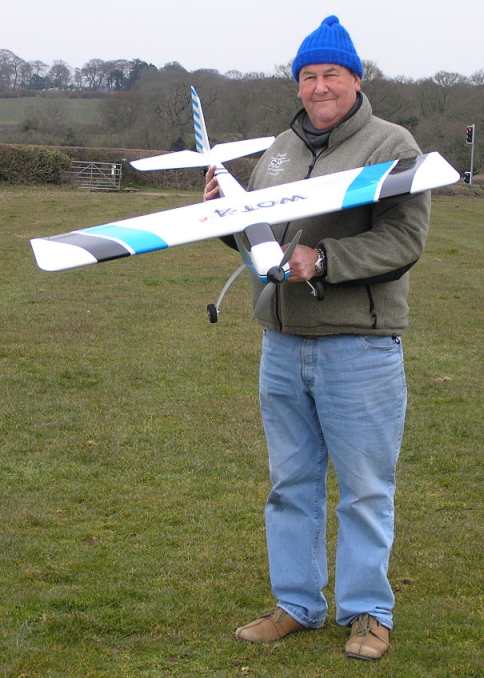 Its April 2013 and Bob brought along his electric WOT4
as yet unflown, but we have absolute confidence that it will fly on rails.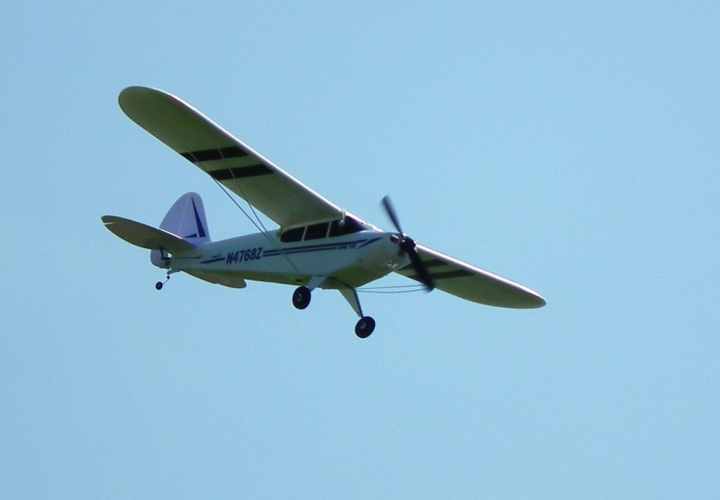 Another addition to Bob's hanger is this super Hobbyzone Cub
which allso flys like a dream.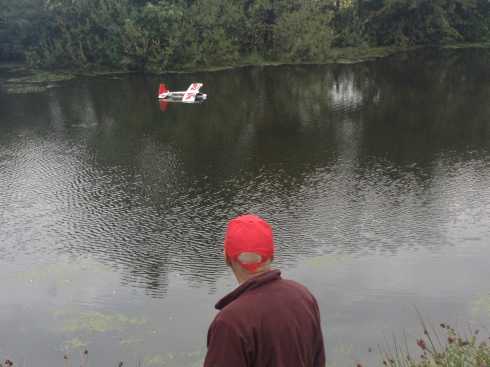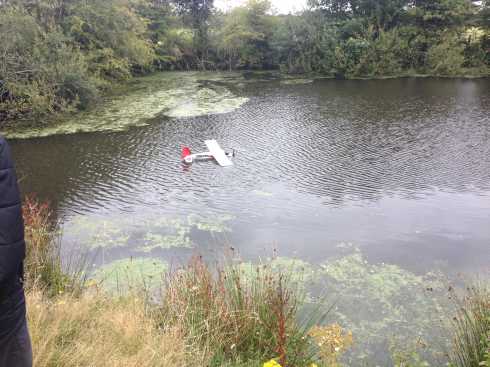 One September afternoon Bob was unfortunate enough to brush the treetops at his landing approach and his foamie
plunged into the most inaccesable corner of the marl pit. By some miracle the wind freshened and with careful
use of rudder and intermittent throttle the model was guided between clumps of weed till it could just be reached
- and nobody fell in!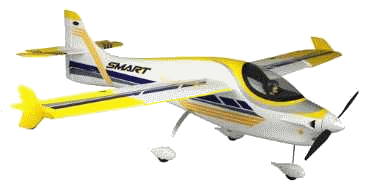 Early in 2018 Bob introduced us to the new addition to his hangar The 5' span Dynam Smart,
an aerobatic model with plenty of puff from it's 4S battery.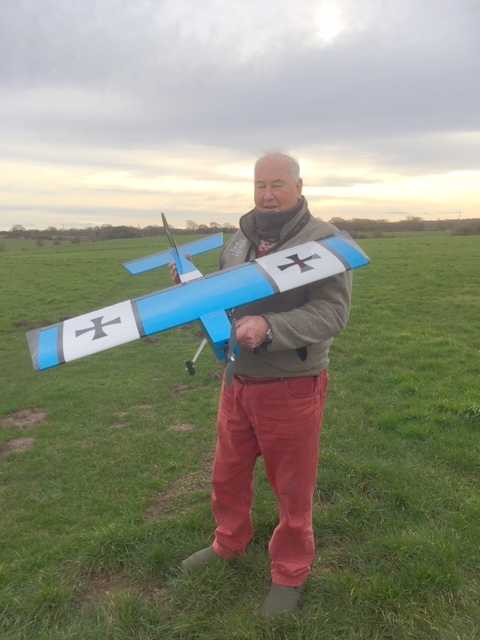 In the Eary weeks of 2019 Bob maidened his new Hobby King Crusader
and she flew on rails.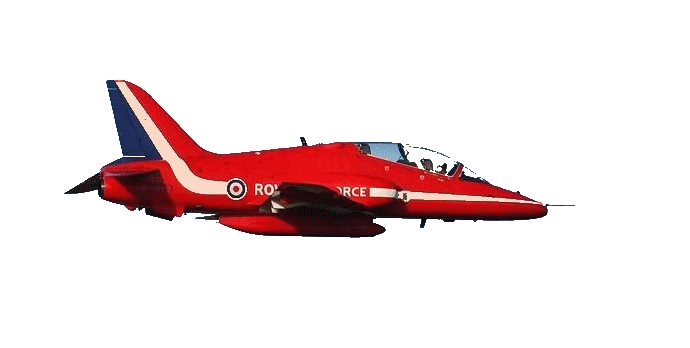 Watch this space, during 2019 John added an FMS Ducted Fan Hawk 1
to his hangar. we await details and a photo of course.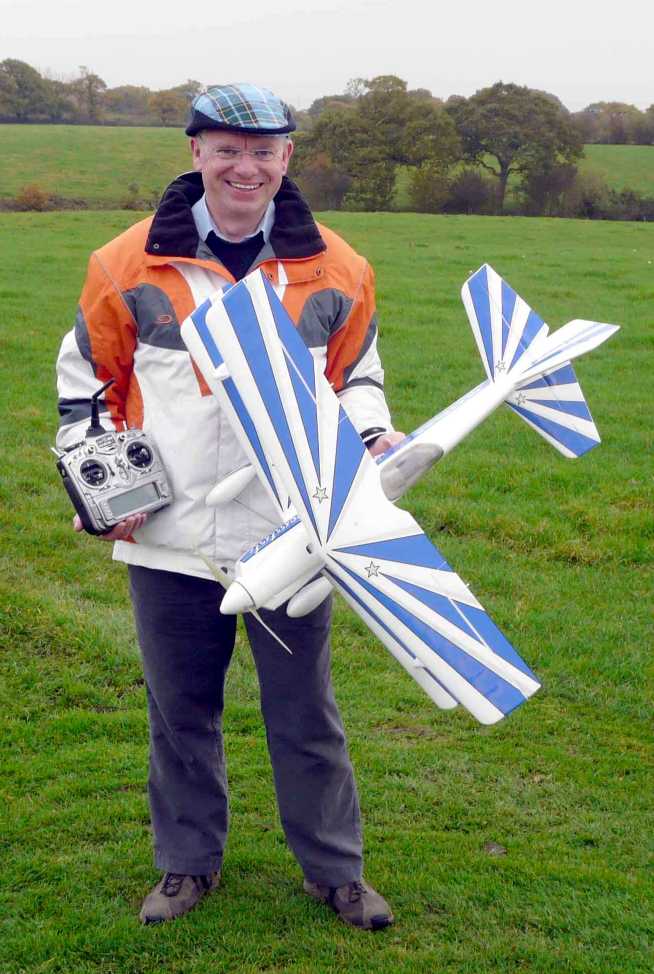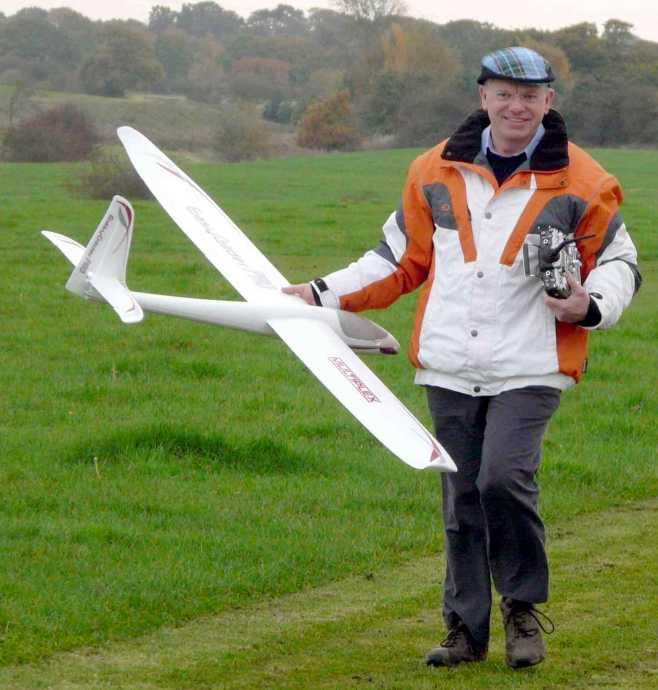 After many a long year a warm welcome to returning member John,
who brings with him many new models & a wealth of experience.
We notice that those wheel spats look a little vulnerable for use on our dairy meadow strip!
but we won't harp on about it cos we would not like to Jinx a fellow flier!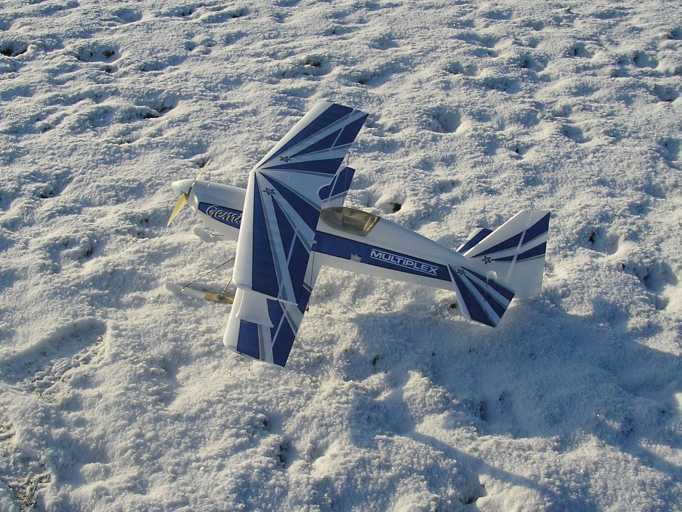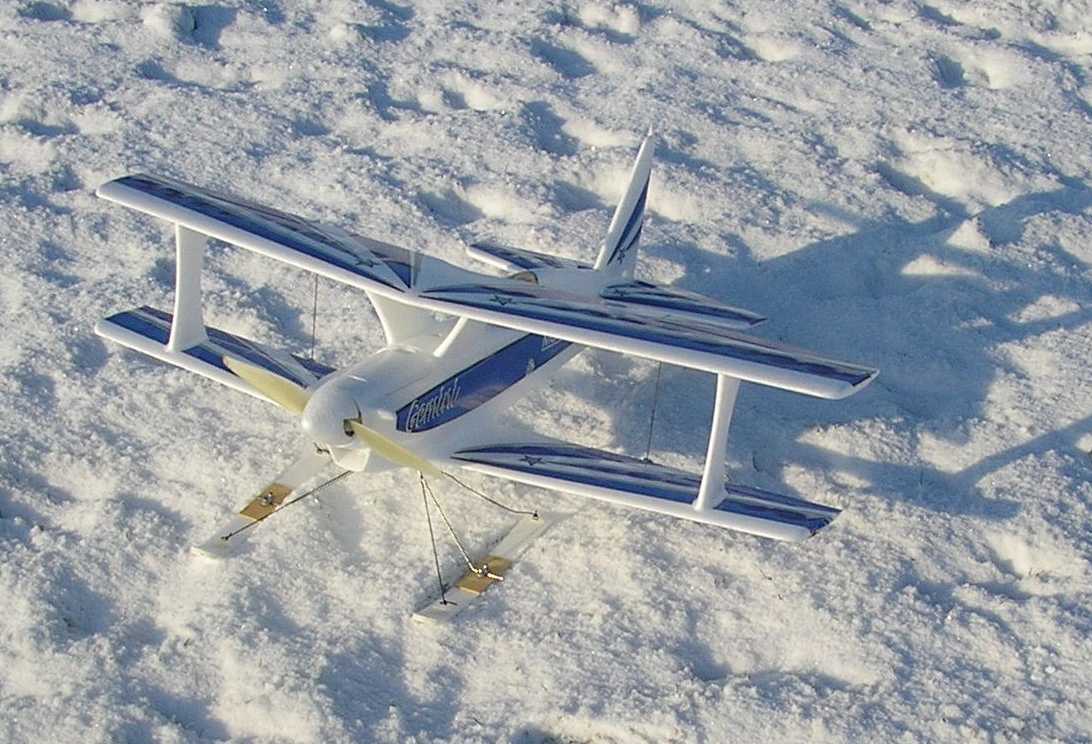 At the first sign of pre-Christmas snow John fitted out his Multiplex Gemini with a set of Skis
and one bright Sunday proved that even his flight batteries could withstand temperatures of -4'C.
John seemed a little surprised that no one else in the club were prepared to risk frozen digits
or the risk of flying into that blinding orb on the horizon!
John's skis were fabricated from 3mm Depron with ply reinforcement, perfect for the job
he even practiced a few 'touch & goes' to prove the point.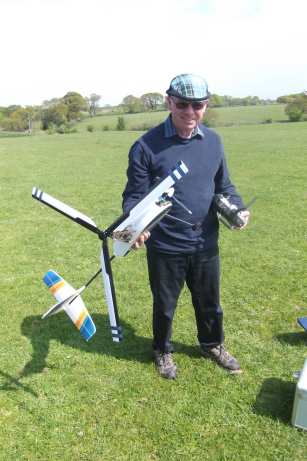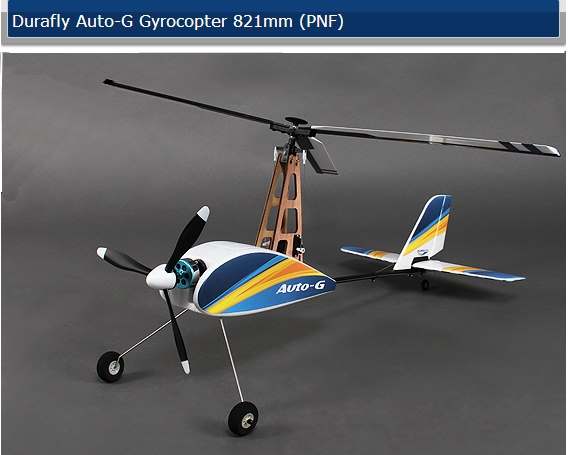 John was able to show that his Hobby King Durafly Gyrocopter flew well on a relatively calm May Sunday afternoon
but the rotor head may be a bit fragile if the landing is anything but a featherlight three pointer.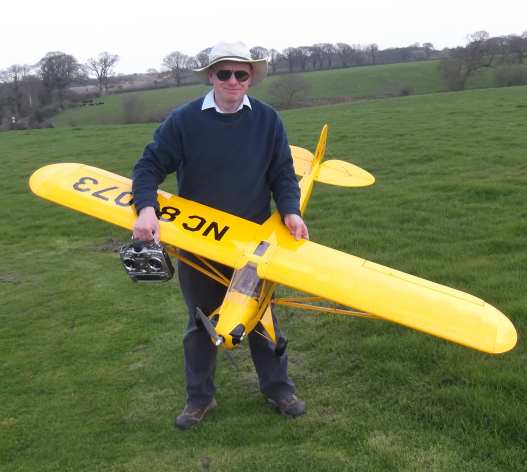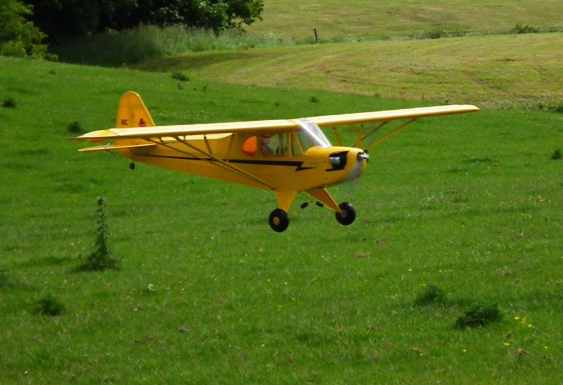 John's Hanger 9 Cub sits beautifully in the June sunshine.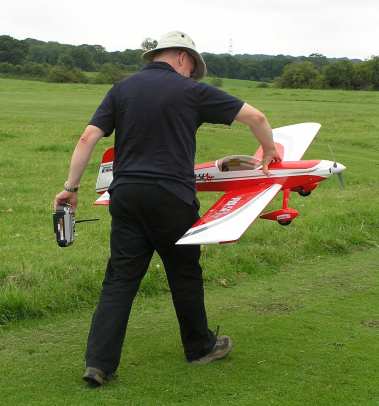 John takes his Pulse.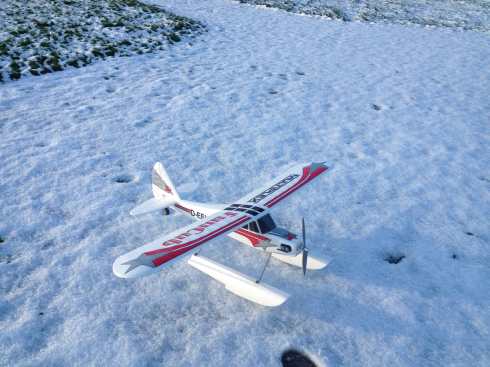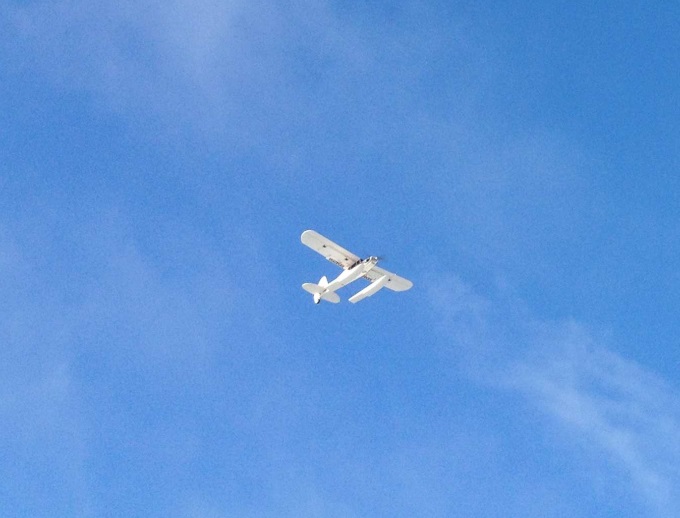 John ventured out solo one cold, bright, December Morning with his Fun Cub .
With Tx in one hand and camera in t'other and no doubt with very cold fingers ...
Did'nt he do well!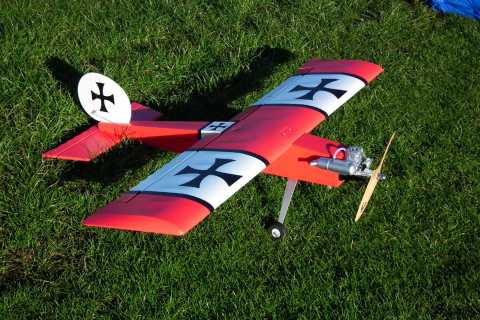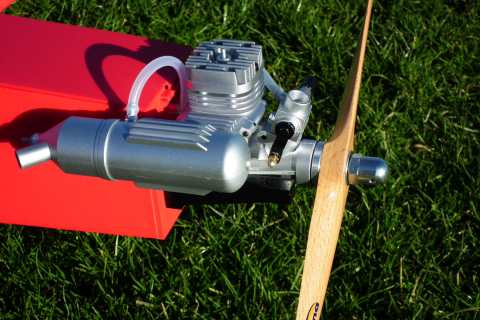 John ventured out one bright February day with his HobbyKing Ugly Stick ,
new for 2015,which sports a dummy 2 stroke motor.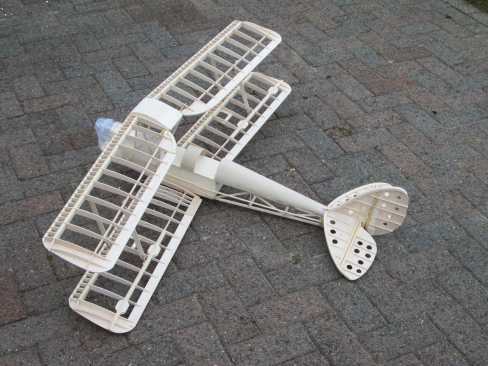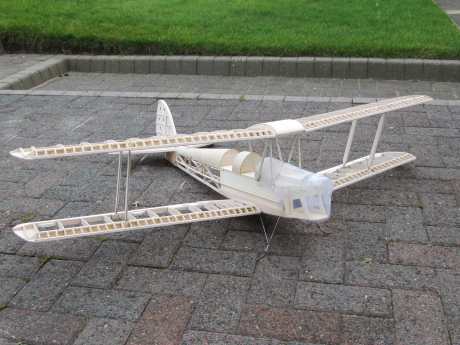 When the weather is inclement John turns to a tradional Kit build for relaxation
This is from his 48" span Tiger Moth BRC kit of Nederlandish origin
A real work of art.




John has found a new use for the Marl Pit in our meadow
with his float equipped FunCub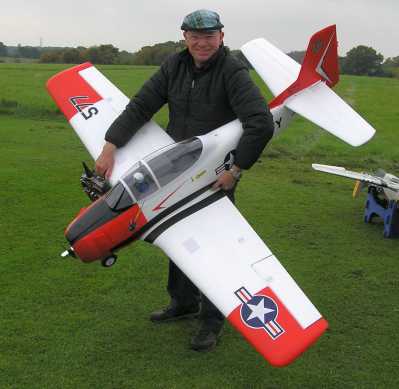 On the first Sunday in October John introduced us to his new eFlight Trojan T28
As described, here this very large foamie is equipped with retracts, flaps and
latest receiver tweaks, the last word in stability and featherlight landings.
( but perhaps John should take much of the credit for those)

We don't often listen patiently to presentations but John took to the floor folowing our 2015 AGM
to introduce the next generation of fixed wing RC models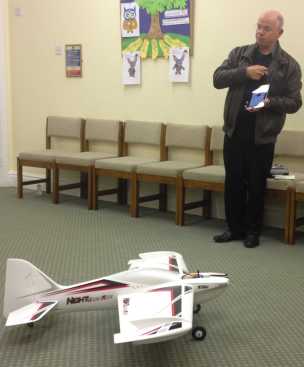 Introducing the eFlite Night Vision Aire

This Horizon Hobby foamie model sports a complex receiver, the Spektrum AR636 which is tuned to the
AS3X system with SAFE technology also offering a Panic Recovery button and a Wi Fi 'buddy lead' facility.
No more trying to set everything up with the computer of your Tx! just download the App to your tablet or smartphone.
We were left open mouthed by this emerging technology, now available at modest cost
as I am sure you will be if you explore further.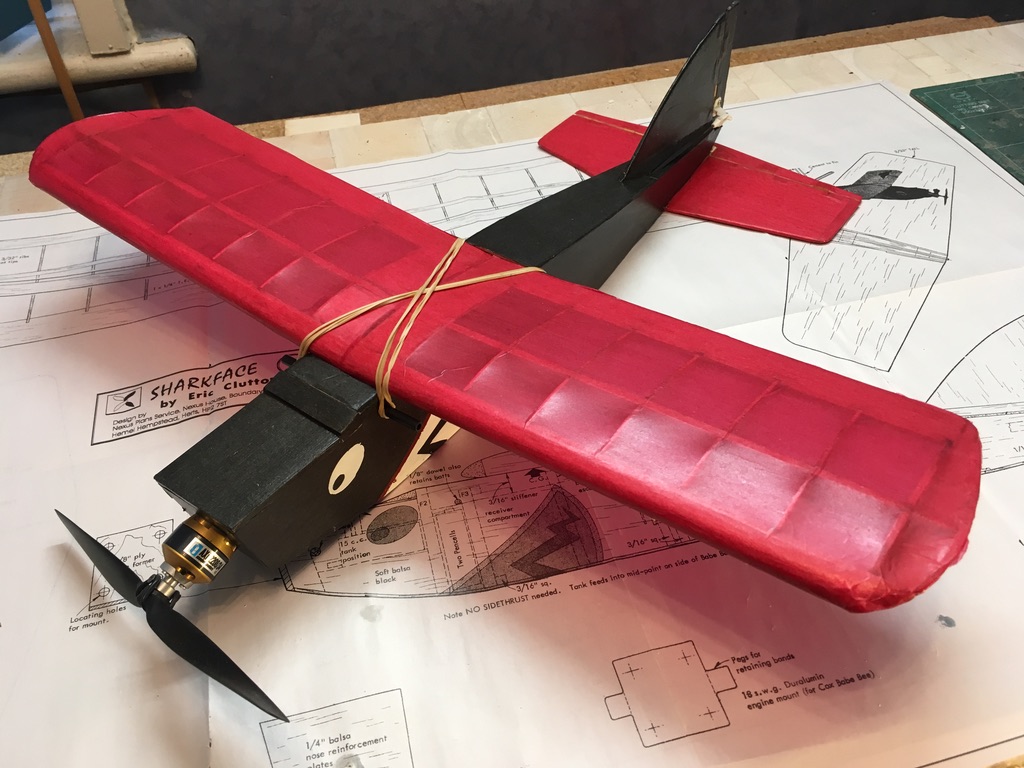 New Years Eve 2017 was a blustery cold Sunday afternoon, so John decided to put the
finishing touches to his Sharkface, finished in Tissue and dope ( as in days of yore)
but this time using a lipo driven brushless motor and 3 channels.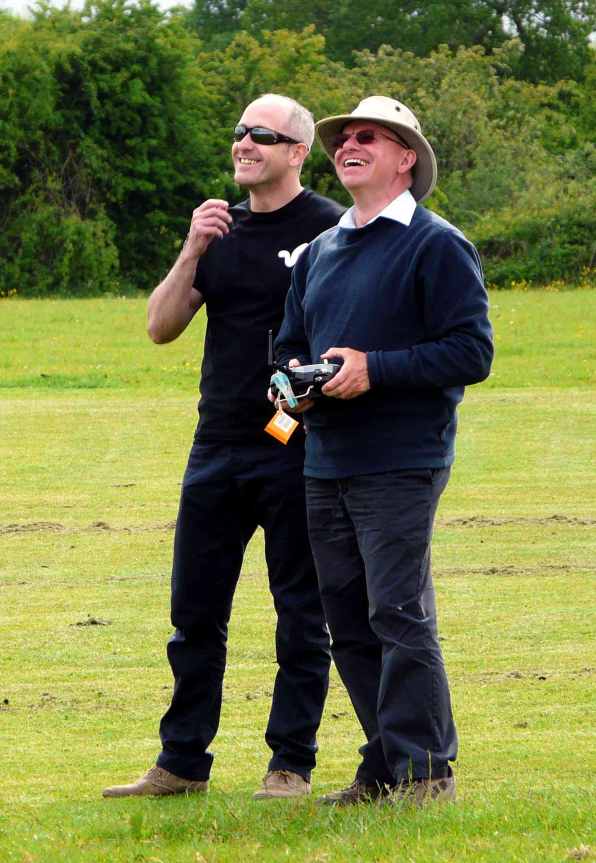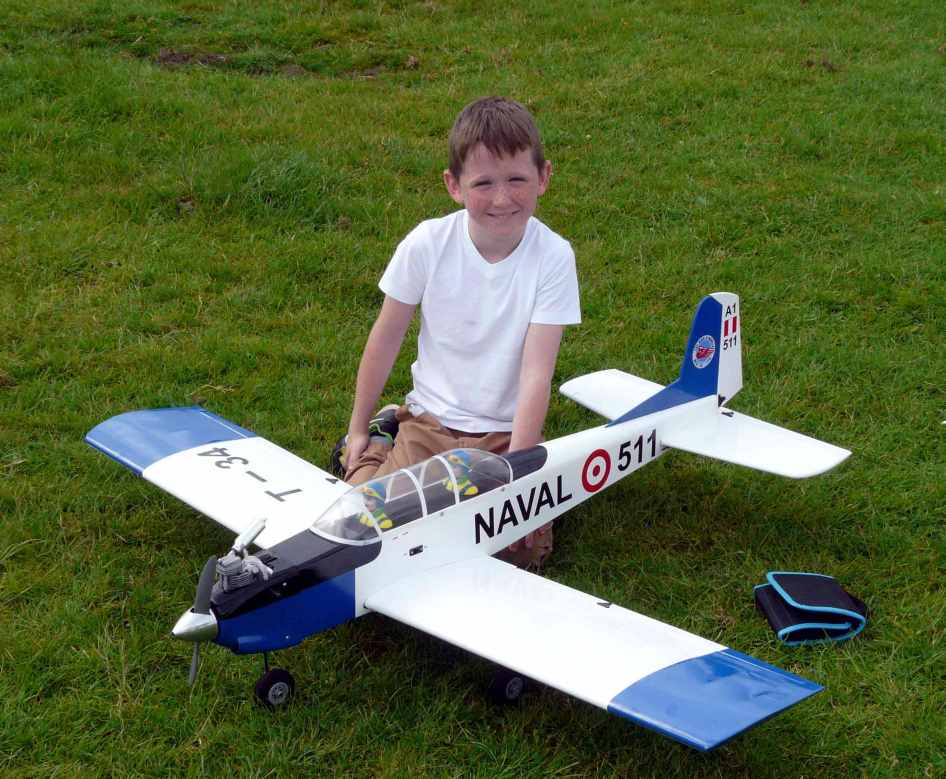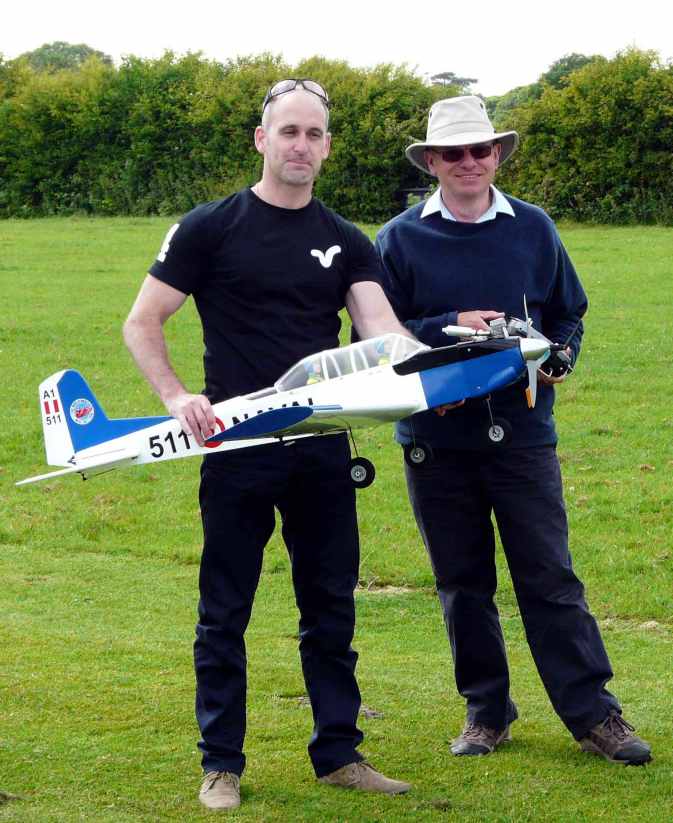 Chris brought his lad George to help with the maiden flight of his new World Models T34 Mentor.
(That is a US Navy training aircraft, not an Army tank)
Instructor John took the helm for trimming etc and by their smiles all was well.
No better feeling than travelling home with an unblemished and flight proven model.







At our 2014 AGM Richard was very happy to receive the Shield as that year's most improved aeromodeller( left)
before we knew it he was flying much more ambitious models this well equipped Dornia 27 will give 16 minutes of fun per 4s battery.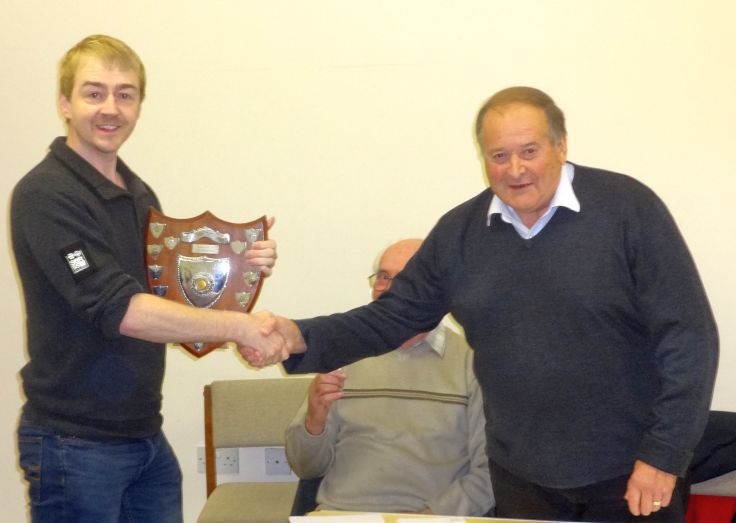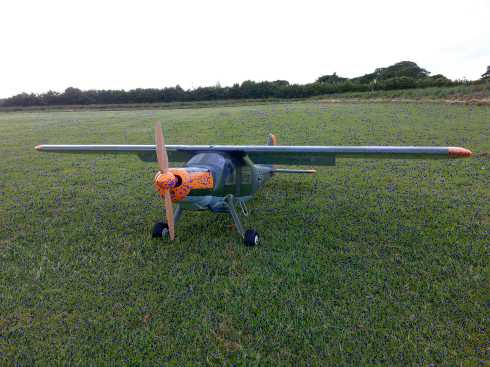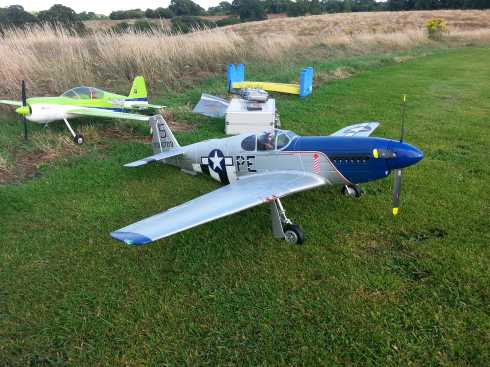 This is Richard's Blue Nosed FMS 1.4m w/s P51B, she suffered from a retract problem early on
but after some care and attention now looks the part again and performs well.
His Green Parkzone Sukhoi SU29 is in a class apart, a veteran of 75 flights and still performs seamlessly.
( Hope that is not the Kiss of death!)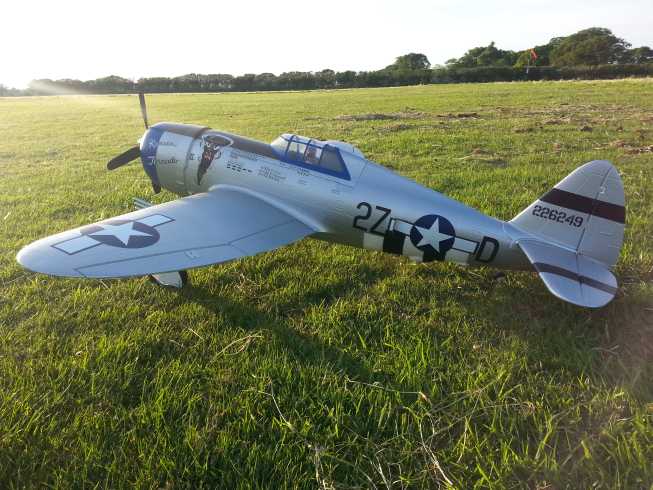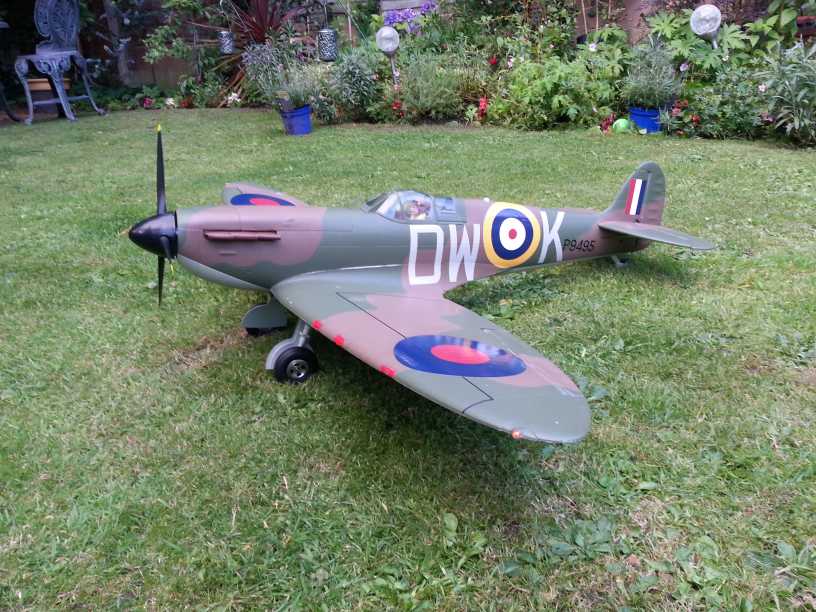 2017 additions to Richard's hangar is this Eflite 1.2m P47 and a 610 Sqn Durafly Spitfire Mk 1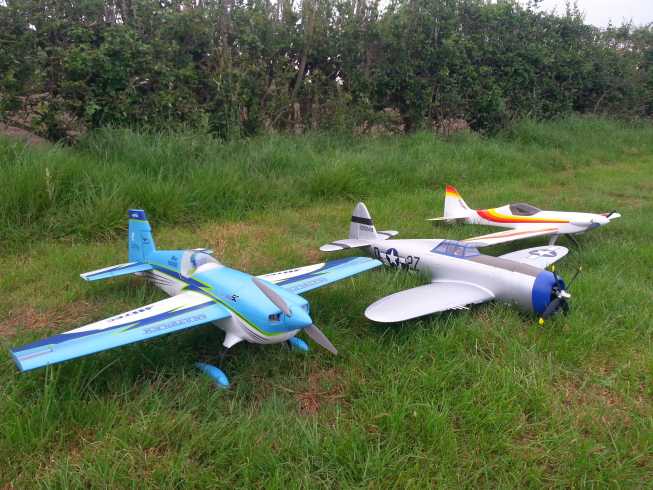 Just a selection of his favourite models at present, the Multiplex Extra 330SC
runs off 3S 2700 lipos giving about 10 minutes of enthusiastic flight time.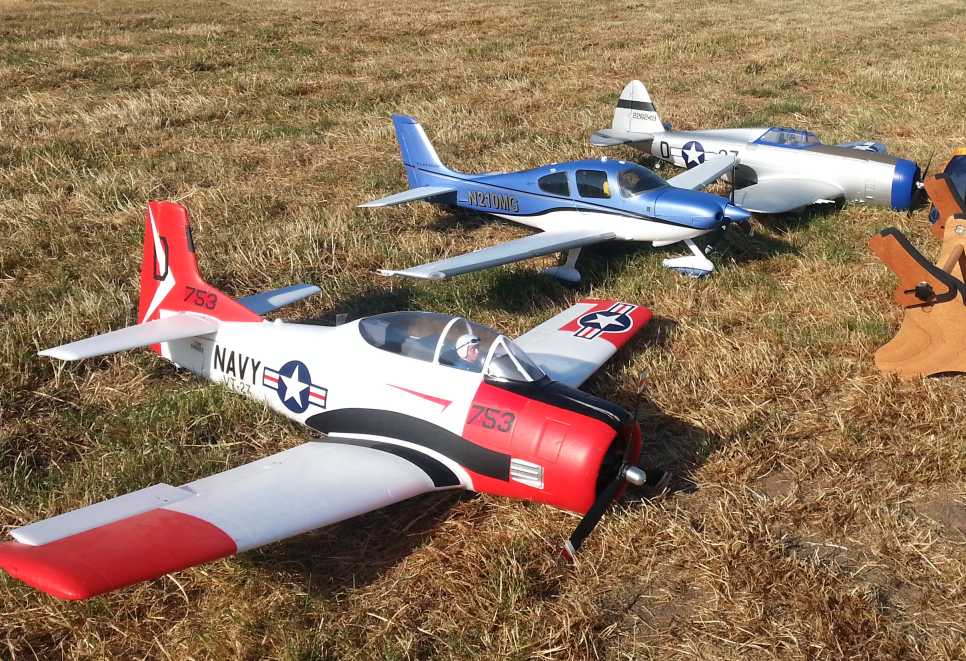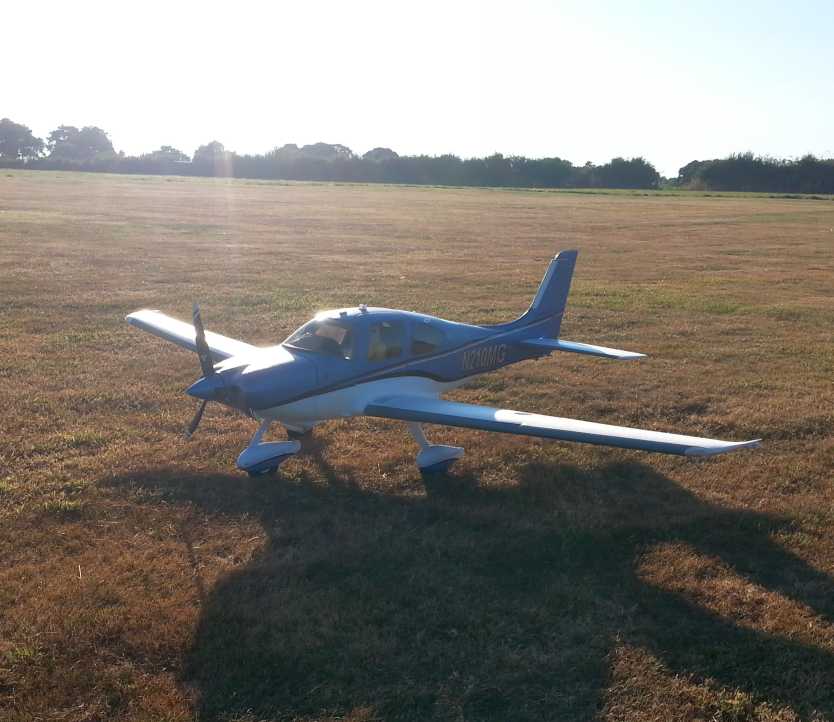 A lineup of Richard's favourite fliers for 2018 including that superb Cirrus.